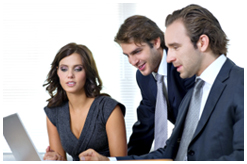 Buying and Selling Ecommerce Websites and other Internet Businesses
WebsiteClosers.com is dedicated to representing sellers of online businesses looking to exit. With the success of $50,000,000 in sold businesses to date, our team of savvy website brokers has the experience and know-how necessary to sell an Internet Business quickly and at top dollar.  If you want to learn more about the processes we take for buying and selling websites, as well as other companies in the Internet Sector, it is worth your time to contact us for a free consultation. We do not earn any commission until we sell your business – so you have nothing to lose, and everything to gain.
We have experience selling a number of different kinds of web properties, including eCommerce websites, software companies, Amazon businesses, eBay businesses, businesses that sell on Buy.com, Sears.com, NewEgg.com and many others. In addition, we have helped sell businesses that operate within the Internet space, but are not traditional online businesses, like Daily Deals sites, Flash Sales sites, wholesalers, distributors, drop shippers, fulfillment centers, marketing and advertising agencies, and many more.
As can be seen in the myriad of client testimonials we have gained through the years, we are unmatched when it comes to the art and skill of selling an Ecommerce Site or other Internet Business. One of the drivers for our success is found in the fact that we are online business owners ourselves; thus, we understand the nuances of Search Engine Marketing, Social Media Optimization, running AdWords and AdCenter accounts, creating data feeds, API integration, operating experience with a number of CMS and IMS platforms, selling on Amazon, eBay, Sears, Buy and NewEgg, utilizing and working with Affiliate Marketers, and using Social Networks to create brand awareness. In the Internet space, we have performed in the same capacity as our selling and buying clients, and because of this specific knowledge of the industry, we understand the best methods to and where to sell an Internet Business. We understand where you're coming from and we can speak your language … whether it be related to Algorithm updates, Analytics review or traversing a content management system, we understand you best, and that, in addition to our 2 decades of experience in buying and selling businesses, makes us a perfect fit as your website business broker.
In addition to the above, we're also business people, who can analyze Profit and Loss statements, Balance Sheets and Tax Returns. We we can analyze your Cash Flow to ensure that you're receiving the very best multiple possible on your business.  Our financial background and network of professionals in the banking industry will help us prepare your business for review by potential banks and other lenders, including those that utilize the Small Business Association to back the small business loans that our banking contacts underwrite. Our vast knowledge of the lending system, along with our network of banks and lenders within the SBA system is critical to helping us close more businesses than our competitors. We know how to value a business, how to market it, how to find the right buyers and how to assist with obtaining financing.
Here are a just a few of the things we will do for you:
Evaluate your business
Exit Strategy Development
Market your business with absolute discretion
Qualify and vet buyers to ensure they have the desire and financial, emotional and operational capability to consummate a deal
Arrange third party lenders to maximize results for both parties at the closing table
Arrange legal, accounting, tax and/or due diligence help, if necessary
Provide consulting services
Help to reduce expenses in order to maximize the deal multiple
Provide initial documents to get the process started and the banks on board
Troubleshoot the endless issues that come up during the due diligence and lending stages of the deal (this is where we excel)
Bring the transaction to a successful closing by putting all the necessary players in place
Deal Consulting (if you already have a Buyer, but need help with closing)
Turnaround consulting (if your business is struggling and you need to begin thinking about an exit strategy)
Helping to prepare your company to go to market in the future to maximize results
Estate Planning
Due Diligence
Every business transaction is unique, but with over 2 decades of experience helping sellers sell their website properties and domains, we are the go-to brokerage firm for the sale of online businesses. Therefore, when it comes time to sell your digital assets, trust only WebsiteClosers.com -  give us a call to begin taking steps towards your Business Exit.